Introduction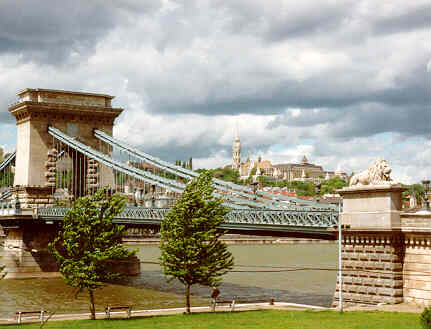 The pubs listed here are a few which might be of interest to the visitor to Budapest. Those likely to attract the most attention of the serious beer lover are the two home brew pubs, which are a welcome recent addition to Budapest's pub culture.

The range of beer available is fairly limited, being mostly standard pale lagers. The odd bock beer, here called bak, is about the only variation.

Most of the beers on sale are brewed within Hungary, with some beer being imported from Austria, Germany and the Czech Republic. The licensing agreements many Hugarian breweries have with foreign companies can, however, make it difficult to be totally sure of the country of origin.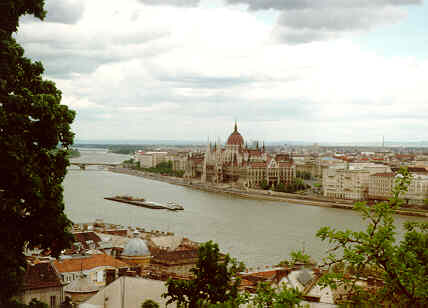 Budapest Pubs
Pubs in Budapest come in a variety of styles: some are like German or Austrian beerhalls, some like elegant turn-of-the-century restaurants, others are modern bars. This all reflects the many and varied political and cultural forces which have influenced the city.

One word of warning; be very wary of the waiters in the central areas of the city. When confronted with a foreigner, they seem to have trouble remembering the correct price of anything. A good idea is always to have the waiter confirm the prices when you order. It's then pretty obvious if they try to add on the standard 100% foreigner surcharge. Outside the more touristy parts, this fortunately does not seem to be the case.
Budapest Hotels
Budapest Hotels Hungary
Grand Hotel Royal Budapest
Kempinski Hotel Corvinus Budapest
Hotel Gellert Budapest
Hotel Taverna Budapest
NH Hotel Budapest
Hotel Liget Budapest
City Hotel Matyas Budapest
Gerbeaud
V. Vörösmarty tér 7
1051 Budapest.
Tel. 429 90 00
Homepage: http://www.gerbeaud.hu
Opening hours: Mon - Sun: 11:30-23:00
Number of draught beers: 3
Number of bottled beers: 2
Regular draught beers:

Gerbeaud Világos (pale lager)
Gerbeaud Barna (dark lager)

Food: Snacks, cakes, meals.
What appears to be a typical café for afternnon coffee and cakes in the Hapsburg style, turns out on closer inspection to also have its own brewery. Entering from the Dorrotya Utca side, a staircase leads down into a cellar brewpub and restaurant. As well as the homebrewed pale and dark beers, there is also an extensive menu of traditional Hungarian food.

For those more interested in chocolate cake than chocolate malt, there are plenty of temptations in the café upstairs.

Update:
Thanks to Steve Westby for letting me know that the "brewing installation" is fake and that the beers are actually brewed elsewhere.

Be warned that it is also very expensive.

Rating: ***
Public transport:
Aranyászok Sörözö
József Nádor tér
Budapest
Tel. 291930
Opening hours: Mon - Sun: 11:00-23:00
Number of draught beers: 2
Number of bottled beers: 2
Regular draught beers:

Dreher Pils 6.0%
Dreher Bak 7.8%

Food: Snacks, meals.
A small one-room beer pub on a square in the centre of Pest, which has a pretty unassuming exterior. The furniture is an odd pine/tubular steel combination, fixed to the tile floor, just in case you feel like taking any of it with you when you leave.

The booths into which it is divided are decorated with old beer labels and photos of the Köbányai brewery, which seems fairly appropriate, given what most of the people in there are pouring down their throats.

The 70's atmosphere is now dated enough to be a bit charming. It's a bit like the way the witless designers of Department S or Jason King would portray a supposedly trendy club. I would hurry up if you want to see it looking like this, as I can't see this sort of look being tolerated much longer. Quite intimate.

Rating: :***
Public transport:
Paul's Pub
Váci utca 49
Budapest
Tel.
Opening hours: Mon - Sun: 10:00-02:00
Number of draught beers: 2
Number of bottled beers: 22
Regular draught beers:
Food: Snacks, meals.
Corner pub on a newly-pedestrianised section of Váci utca away from the posh shops. The single upstairs room is an overdose of pine panelling, with every surface, including the ceiling, covered with it. Downstairs is a restaurant. An ice cream fridge in the middle of the place is a slightly bizarre touch, but generally the place is pretty cool. MTV with the sound turned down is a nice Amsterdam touch.

It has a fair selection of beer from Austria, Bavaria and the Czech Republic, as well as a fair few Hungarian ones. Good lard sandwiches, too. Three different Weissbiers are available.
Note the amazingly long opening hours. Very civilised.

Rating: ***
Public transport:
Kaltenberg Sörözö
Kinizsi utca 30-32
1092 Budapest.
Tel. 215-9792
Email: info@kaltenberg.hu
http://www.kaltenberg.hu

Opening hours: Mon - Sun: 12:00-24:00
Number of draught beers: 2
Number of bottled beers: 2
Regular draught beers:

Kaltenberg Világos (light)
Kaltenberg Barna (dark)

Food: Snacks, meals.
A brewpub in a large beer cellar in the Bavarian/Czech style with a vaulted brick ceiling, tiled floor and wood panelled walls. Off the corridor which runs down one side of the main room, is a strange area full of slot machines, which is a little out of keeping with the atmosphere of the rest of the place to say the least.

In addition to the home-brewed beers, there are also pale and dark Maisel's Weisse in bottles. The pub is ownes, as the name suggests, by the German Kaltenerg brewery.

The beer is pretty good and cheap in the bargain. The meals are excellent and reasonably priced, too. Respectable, but not ridiculously posh. The best thing is that it's location slightly outside the city centre means that the waiters don't try to cheat you.

Rating: ****
Public transport:
The Caledonia
Mozsar Utca 9,
Budapest 1066.
Tel: (+00 36 1) 311 7611
Email: caledoniabar@yahoo.co.uk
www.caledonia.hu
Opening hours: Sun - Thur 11:00 - 12:00,
Fri - Sat 11:00 - 01:00
Number of draught beers: 5
Number of bottled beers: 7
Regular draught beers:

Belhaven Best
Guinness Stout
Dreher

Food: Snacks, meals.
A Scottish pub that offers both Scottish food and drink. You can try such caledonian classics as Scotch broth, haggis or fish and chips. It's also the only pub in Budapest selling Scottish beer.


Rating: :
Public transport: Yellow metro (number 2) stop at Oktogon
Corso
Petőfi Sándor utca
Budapest
Tel.
Opening hours: Mon - Sun: 11:00-23:00
Number of draught beers: 2
Number of bottled beers: 0
Regular draught beers:

Dreher Pils 6%
Dreher Bak 7.8%

Food: Snacks, meals
Multiroomed pub-restaurant with some rather handsome brown murals partly covering the interior walls. Quite posh, but with charmingly obstinate staff, who have their own ideas of what you should be ordering and show their disapproval when they think you get it wrong. Pretty good food at a very good price, if you don't mind the odd dirty look from the waiters.

It has a summer beer garden at the rear. If you're into wine, they also sell a very nice tokay.

Rating: ***
Public transport:
Belga Sörözö (Belgian Brasserie)
I. Bem rakpart 12,
Budapest.
Tel: 201 50 82
Fax: 225 83 50
http://www.belgasorozo.com
Opening hours: Mon - Sun: 12:00-24:00
Number of draught beers: 3
Number of bottled beers: 30
Regular draught beers:
Food: Snacks, meals.
A list of bottled belgium beers to drool over - approx 30 and all seemed to come with matching brewery glass. Has separate drinking and eating areas. Food is top class, varied with local styles available, but not expensive. 3 draft beers. Nice relaxed atmosphere. (Report courtesy of Brian Willis.)

Darren Tree reports:

" The Sorozo has roughly 80 Belgium beers to choose from which covers just about every type of Belgium beer with mainly the more popular/main stream (but very good) ones on offer plus quite a few more unusual ones with a large Kwak also available, prices are reasonable as well with prices starting from roughly 1,000 forints. Food is also available which looked good although we didn't indulge. "

Photo courtesy of Darren Tree.

Rating:
Public transport:
Pater Marcus
I. Apor Péter u. 1.,
Budapest.
tel. (+36-1) 212 1612
http://www.patermarcus.hu
Opening hours: 12:00-00:00
Number of draught beers: +-10
Number of bottled beers: 60
Regular draught beers:

Gold
Pils
Dark
Wheat
Fruit

Food: Snacks, meals.
Thanks to Tony for this report:

"Just down from Clark Adam Ter below the fernicular railway to the Castle Another Belgian Abbey Restaurant/Pub selling upwards of ten draught beers including two 'house' beers plus a range in excess of sixty bottled beers (mainly the usual excellent suspects) Excellent foods and good value The place itself- An raised extenal covered area leading downstairs to a bright airy bar and restaurant with white washed walls with neat very heavy wooden furniture. All in all excellent"

According to a new report they now sell several of their own beers.

Photo courtesy of Darren Tree.

Rating:
Public transport:
Dunaparti Matroz Kocsma
Halász u. 1,
1011 Budapest.
Tel.: 225-1673
Fax: (1) 225-8350
http://www.matrozkocsma.hu/
Opening hours: 12:00-00:00
Number of draught beers: +-10
Number of bottled beers: 60
Regular draught beers:

Gold
Pils
Dark
Wheat
Fruit

Food: Snacks, meals.
Thanks to Darren Tree for this report:

"Less than a minutes walk away from the Belga Sorozo is Dunaparti Matroz Kocsma (Sailor's pub) which offers the same very good range of Belgium Beers as the previous two plus their own wheat, pils and fruit beer. It also has a painting on
the wall of the whole of the Danube which sadly my picture doesn't do justice."

They sell several of their own beers which are probably the same as the ones in Belga Sörözö and Pater Marcus, as they all have the same owner.

Photos courtesy of Darren Tree.

Rating:
Public transport: