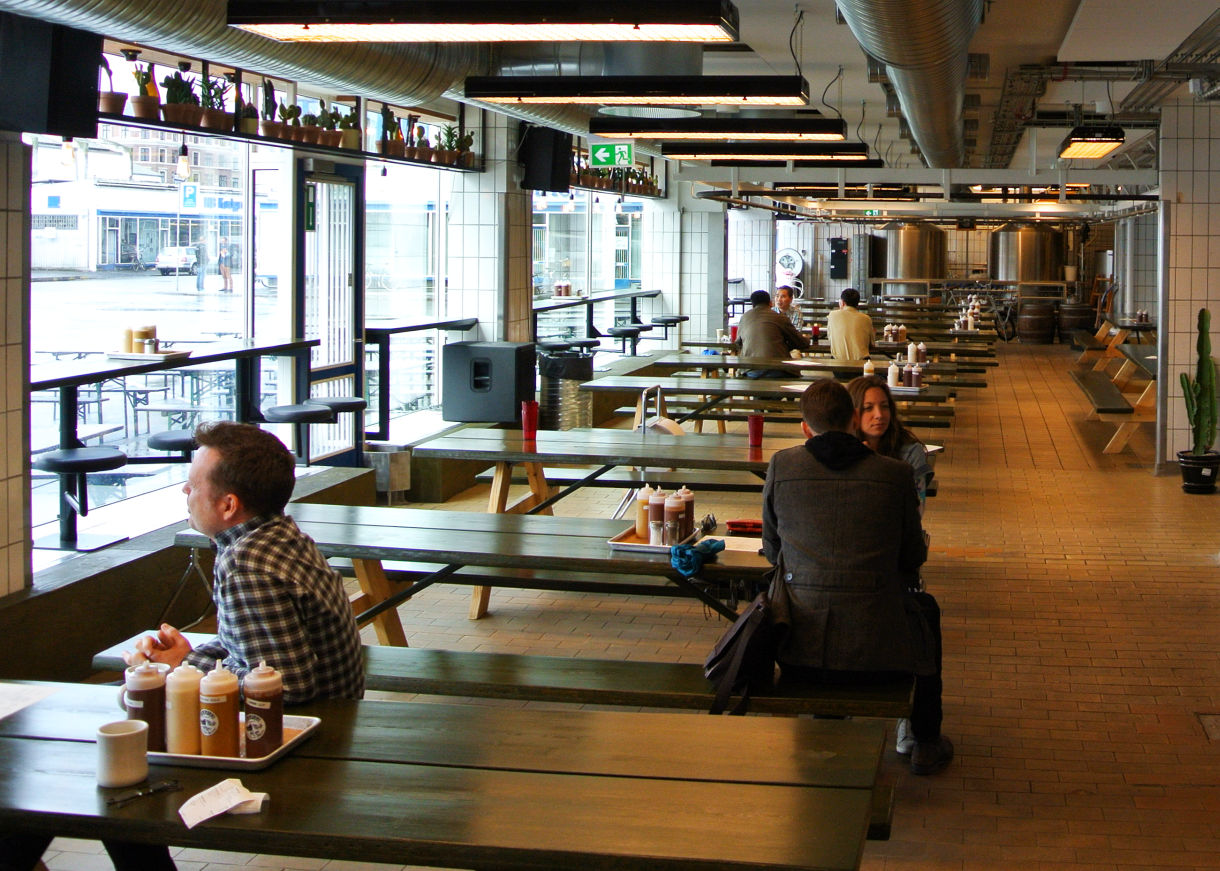 It's too early to check in, so I dump my bags at the hotel and head out for beer. Many of the beer places don't open until later in the afternoon. But War Pigs, the new Mikkeller/3 Floyds brewpub opens early. And it's just around the corner. I get there at 1 PM.
Looks like this was some sort of wholesale meat market. Now it's full of trendiness. Though opposite still seems to be some sort of meat wholesaler.
20 draught beers in all. It's pretty quiet. Almost as many staff as customers.
I nipped into a cheap supermarket and got myself some rolls, cheese and water. And 2 bottles of Limfjords Porter. It's a cracking beer and only 17 crowns for a half litre.
It's great – not one thing I need to do today. I'm free to wander around and drink as I please. And to take notes and snaps. Though when will I use the notes? I haven't finished writing up my last US trip yet. Doubling the length (unwittingly) of my blog posts hasn't helped. Insisting on a real post each day is killing me.
Seem to be some Americans working here. I guess that's the 3 Floyds connection.
I'm surprised that I could understand some of the Danish announcements on the train. Really should practice reading Danish more. I'm going to need that skill tomorrow at Carlsberg. You can't believe how excited I am at a day with the run of their archives. They seem a friendly bunch there from our email conversations.
I'm writing this on the back of a pub guide I put together for myself. Some taken from my Copenhagen Pub Guide web page. But that's getting dated, so I nicked some places from RateBeer.
Just remembered that I forgot to email my next BeerAdvocate column yesterday. Have to wait until Monday now. The 2nd 1,000 words about Berliner Weisse. And that only took me to the 1970's. I could easily have written another 2 – 3,0000 words. Just as well, because I need to do that. For my Brettanomyces Festival talk next month.
Shit. More stuff I need to write. Shouldn't think about stuff like that. I'm supposed to be relaxing.
The brewkit looks about 20 hl to me. Only the brewhouse is in the pub. The fermenters are in another room. Looks like the conicals are 20 hl, too. In the US the fermenters are usually double the brew length.
On Beer Advocate they noticed I get a name check in the new BJCP guidelines. Some thought it odd – had I turned to the Dark Side. Not really. I was asked politely for my opinion and I gave it. I like to think that I helped improve the Czech styles.
Beards and tattoos – do they define this decade? I'm proudly clean-shaven and uninked.
Quarter pound of brisket, quarter pound of pork shoulder, small potato salad. I'm stuffed – for about 20 euros. Not too crazy.
I think this is about my sixth time in Copenhagen. The beer scene has changed so much. Back in the 1980's draught beer was almost unknown. Almost everything was 33 cl bottles of Carlsberg and Tuborg. Thankfully the Porter was tasty, strong and, for the ABV, not that expensive.