When affection turned into unequivocal love, is how I would describe setting foot in Krom.

Taste is very much a question of fashion. Some periods only garner distain. Loathed, they crawl off and die quietly. The 1950's did.

The barman - a thoroughly likeable chap - spoke enthusiastically about the thirties interior. Some of the leaded work - yes, he's right. But the rest - pure 1950's.

I don't like to talk in superlatives. OK, I do. But this pub deserves them. One of a handful of bars I have visited (and god knows, I've visited a few) with a bonafide fifties décor.

The 1950's became incredibly unfashionable, so everything got trashed. That's why such interiors are rare.

As a big treat, when I was a kid, we were able to go into the lounge bar of the pub on our caravan site. Through the window, the dangerous, inaccessible public bar looked like this. The lounge of the Ram Hotel in Newark wasn't too disimilar, before it became a circuit pub. Many locations in my best beer-drinking dreams share design concepts with Krom.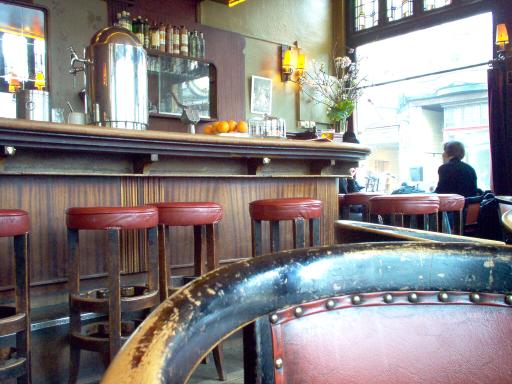 What more can I say? Literally, a pub of my dreams. What makes it perfect is the general shabiness. Brilliant. Coming in here, the fourth pub down (well, ones worth going in) from Frederiksplein, I couldn't help but smile.

As I said, the barman was full of praise for his workplace. Good on him. That's half the battle won, in a pub, if the barstaff love where they work.

The bar is a weird curvy veneer thing, that looks as sturdy as a Diana Dors filmset. But look at those beer taps. Do you remember that old French silent film of the Jules Verne story? Doesn't that chrome bullet look like the spaceship?

And the old jukebox. Probably 1960's, but I can remember that sort of model from my youth. The Whip in Leeds - in its days as a Ted meeting point - had a more vintage one. A whacky thing that played the records vertically.

Before I drift off, I'll remark upon the lovely leaded lights (alliteration is such fun). Restrained pastel colours, but dead good (that's wot me nootz sez). When I learn how to take photos better, you'll see it here for yourselves.

I hope that the barman's enthusiasm is representative of the survival chances of this pearl in its current form.

Here are a few comments and corrections from the landlord, Marcel Reijneveld:
"I came accros your beerguide on the internet when I was looking for cafe Krom. Thanks for the compliments jou are giving. I work in cafe Krom for over 11 years now, and became the owner about a year ago. However, I have to correct you about a thing. The interior isn't from the fifties, not even from the thirties but originally from the twenties. The chairs are original Austrian thonet's (for your information: we are restoring them at the present time) and the neon light isn't yellow by itself (what was possible somewhere in the forties) but is white light in yellow painted glass. About the jukebox you're right, it's an AMI (American Music Industries) from 1959."