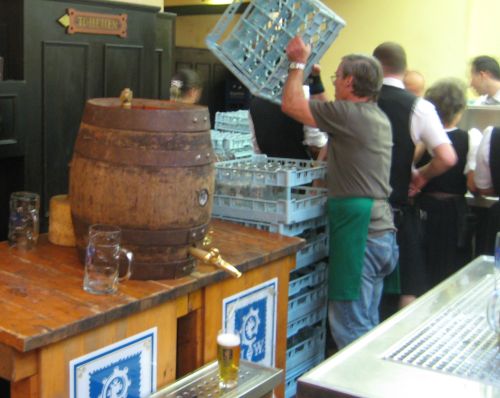 This pub has always reminded me of a Prague beerhall. Maybe it's because on my first visit, the waiter who served me was Czech. More likely, it's because it really looks like a Czech beerhall.

There are two entrances to this sizeable establishment, restaurant on the right, beerhall on the left. Though, of course, the beerhall serves full cooked meals, too. On the pub side, you've got an extremely long corridor leading to a bar counter that sits right at the back of the building. In the corridor itself, there is simple seating, in the rooms to the right, proper tables and chairs.

Everything is kept nice and simple: tiled floors, panelled walls, whitewashed vaulted ceilings. For variety, there are a few black and white prints of Munich sparingly placed. And this wouldn't be the south, if there weren't quite a few heads of dead animals staring mournfully down at you. Just the thing to cheer you up. Personally, contemplating my own mortality mixes very poorly with beer-drinking.
This being one of the Augustiner's showcases, it's got the full range of Augustiner beer, They're not served too badly, either, the draught beer being tapped at a correct lager temperature (what I mean is NOT TOO BLOODY COLD).
Overall, a pleasant, traditional beerhall. It has the huge advantage of being located on the main shopping street, on the way from town to the station.