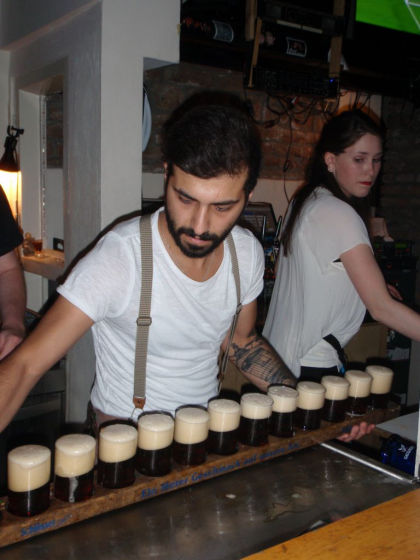 The city's latest Alt brewery. It's just openend so I have few details yet.

Ben Powell reports:

"The interior is what I guess one would describe as "Industrial-Chic", with bare bricks & Steel Service Pipes & Ductings featuring.
The staff were in keeping with this casual (cool) approach, with "shabby chic" attire & tattoos..

This seemed to attract a mainly younger crowd (except for ourselves), and the place was nicely busy, with all tables full. It is significantly smaller in scale than the established traditional Alt Taverns nearby, and maybe aims itself as a kind of hybrid of these Taverns, and the more new-world "Craft" Beer Pubs (?)

The modern brewing equipment is at the back of the Pub, fairly open plan (not behind any glass or doors), and the Alt Beer dispensed from an unusual glass contraption, situated on the Bar..

Another quirky feature was that The Bar area was built on top of Kurzer Beer Crates..

The Tubes of Alt were slightly shorter & stubbier than those elsewhere; and were carried in a long wooden rack, which was mainly for effect, as this is clearly not very practical in a busy pub, full of increasingly tipsy patrons!

The Alt Bier itself was relatively dark, with a quite pokey hoppy finish..very tasty, but again aiming to be a bit more modern than the more established Alts..in fairness, it must be a bit intimidating to open a new Alt Brewery in an area that contains such excellent Taverns..you can see they have tried to bring their own feel into what they brew & how they present it..."